This is an article written about fermented food in Vietnam.
This time we report about Vietnamese fish sauce "Nuoc mam" familiar in Japan.
It is Ms.Ann who taught us. Ms.Ann is a local staff member of "B & Company", a market research company specializing in the Vietnamese market.
Q:What kind of seasoning is nuoc cham?
A:There are two kinds of condiments essential for Vietnamese cuisine, fish base and soy base.
Sauce is generally liquid or semi-liquid used to serve with food, to enhance the taste as well as add flavor to the dish. Sauce is almost an indispensable accompaniment in Oriental cuisine in general, and Vietnamese cuisine in particular.
Sauce can be classified into: "nuoc cham" and "mam"
"Nuoc cham" includes 2 main types:
Fish-based sauce
Fish-based sauce are the mixture of diluted fish sauce with various other ingredients like sour vinegar or lemon, sweet sugar, spicy chili, garlic. What it is mixed with, though, depends largely on the region, varying widely from north to south.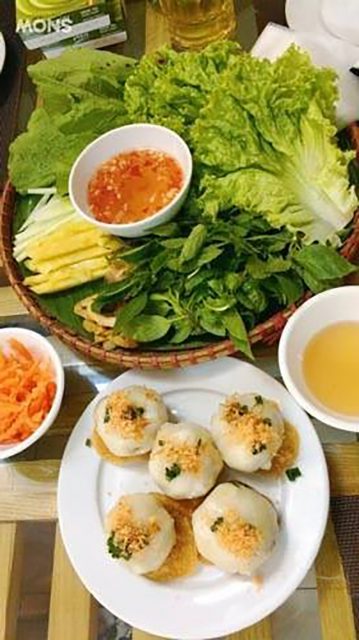 Fish sauce" and "Chili garlic fish sauce
Soy-based sauce
Soy-based sauce, so called "tuong" (tương bắc, tương bần) and "xì dầu" or tamari in Japanese. "Tuong", a special taste specialties familiar from long ago, is made from sticky rice, soybean, corn or peanuts are molded, fermented in jars. "Xi dau" is a popular sauce of Vietnamese people due to the influence of Chinese cuisine. This kind of sauce is made by fermenting soybeans, roasted cereal, water and edible salt.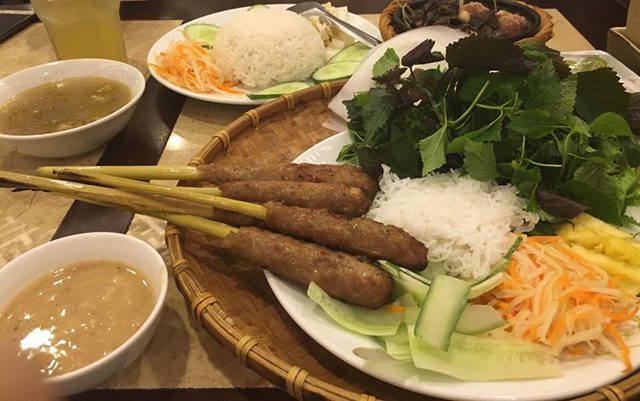 Tuong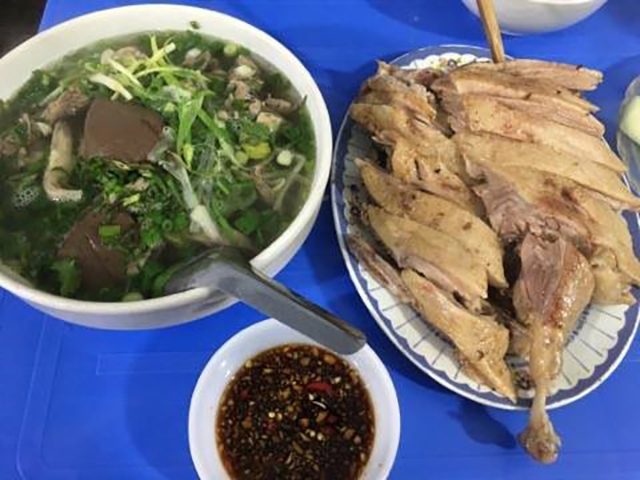 Xi dau
What is "Mam"?
"Mam" is a thicker, paste-like liquid, typically made from varieties of seafood, such as: mắm nêm, mắm ruốc, mắm cáy, mắm cua, mắm cái, mắm rươi, mắm sò…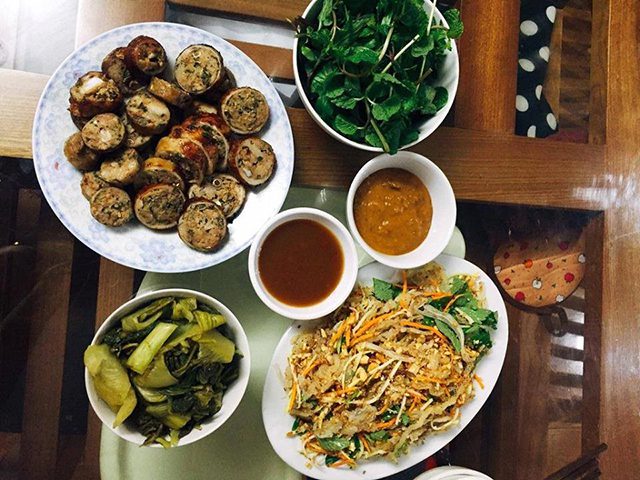 Mắm tôm (Grilled shrimp)
Seasoning with red peppers「ớt chưng」
Beside three types above, Vietnamese people use various ingredients to make sauce, for example, processed chili to make "ớt chưng" (speciality in Vietnam central region of Hue), Vinegar sauce served with "Bánh cuốn" in Lang Son…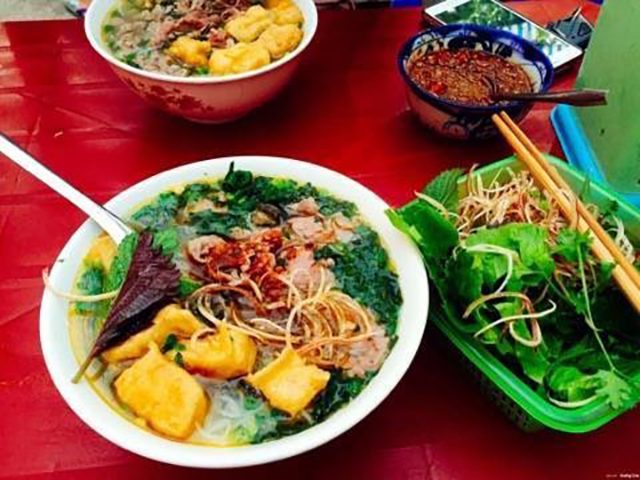 Ớt chưng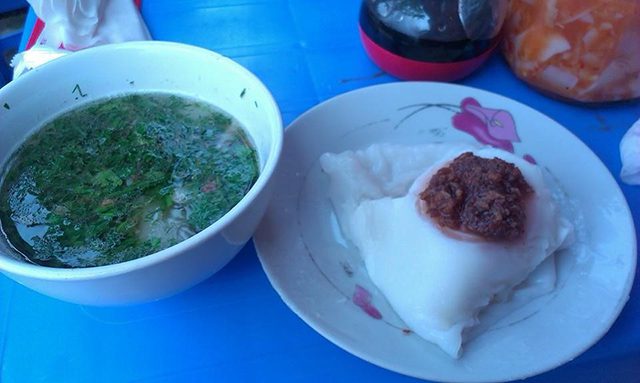 Bánh cuốn Lạng Sơn
Q:What is the way to eat nuoc cham?
A:Sauce is like the soul of the dish; if lack of the bowl of sauce, it seems like a dish is not delicious and nothing is attractive to enjoy.
In Vietnamese cuisine, sauce varies depending on the food it serves and must accompany suitably with food. For example: Roasted or boiled duck meat must be used with garlic soy sauce; boiled duck, fried fish, boiled fish, boiled beef be used with ginger sauce; roasted or boiled chicken be used with salt pepper and lemon leaves.
About fish-based sauce, there is a clear difference in flavors among regions when it comes to condiment by diluting fish sauce and adding others.
In the North, fish sauce is often diluted with water added vinegar, lemon and sugar, added a little garlic, chili, sometimes grinded or ginger minced ginger….In the South, coconut juice is the ticket for the locally preferred sugary taste. By simmering coconut juice until halved and then adding lime and sugar, the mixture is then topped with the fish sauce for a decidedly sweeter option… Southern sauce is always sweeter than the North. Unlike the North and South, the central region, however, like to keep the richness of pure fish sauce, so only add lemon, sugar without water to dilute.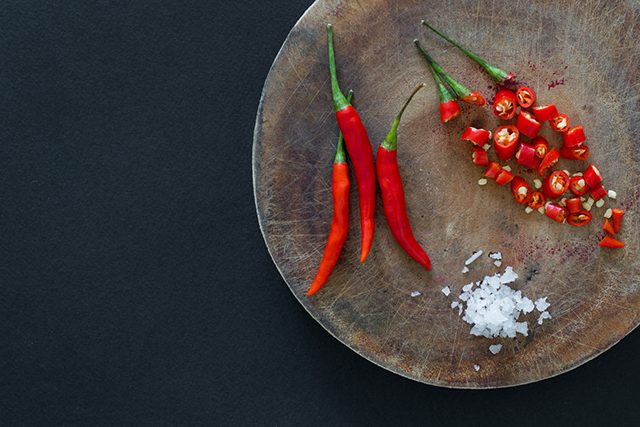 Chili is an indispensable ingredient in Vietnamese fish sauce. But the way to put chili in fish sauce in three regions is not the same. The North often slice chili into ring shape, the Central often crush to enjoy the intense flavor. In the South, chili is minced to get spicy and red color to make the sauce more attractive.
Ann's favorite nuoc cham recipe
Because fish sauce as condiment ("nuoc mam cham") is the most basic and popular in almost families and restaurant in Vietnam, here below we would like to introduce some ways to make a fished-base sauce:
Pure fish sauce:
Popular in families and restaurants, often served with boiled dishes such as boiled vegetables, boiled meat … or with dishes that are cooked, stewed without seasoning such as basil…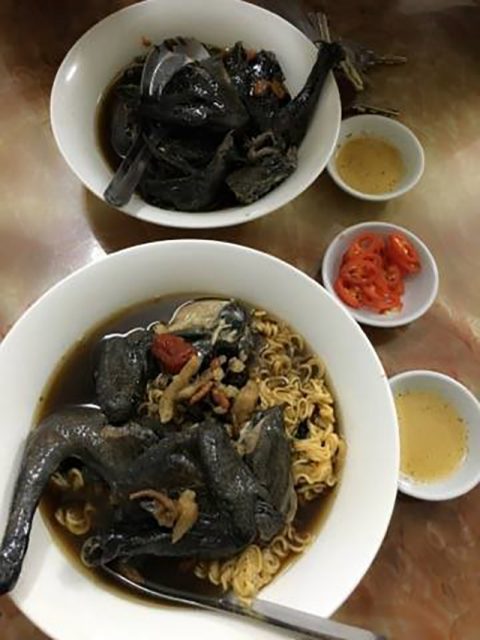 Pure fish sauce
Chili/pepper sauce:
Served with boiled vegetables, seasonings for beef noodle soup, especially clean fish sauce with boiled pork, boiled boletus,… or fish in fish soup sour.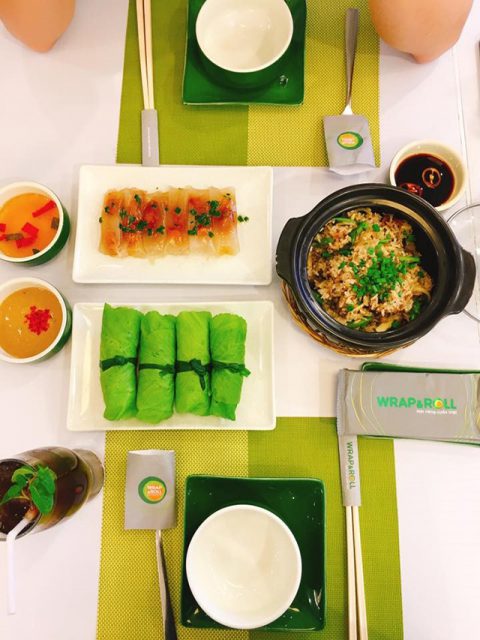 Chili sauce
Chili garlic sauce:
This is the most popular sauce, can be used in family meals with fresh vegetables, boiled vegetables, spring rolls, noodles, banh xeo,…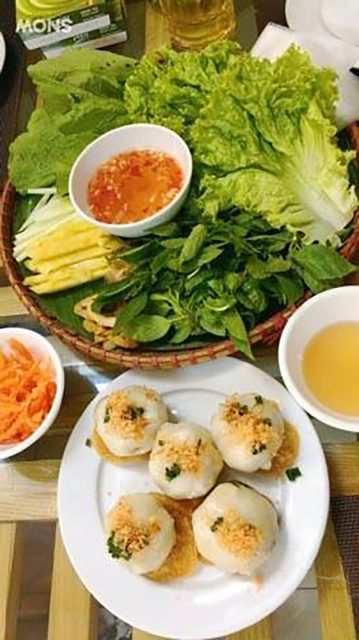 Chili garlic fish sauce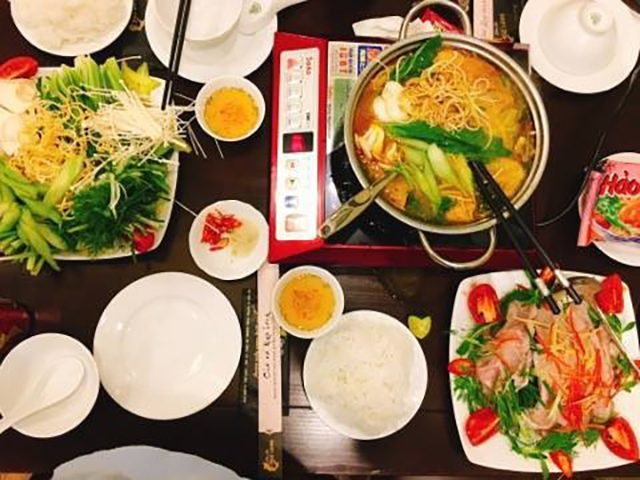 Chili garlic lime fish sauce
Ginger Fish sauce: served with heavy-tasting or tantalizing waffles like grilled catfish or crispy fried, boiled duck breast, boiled snail, stuffed snail …
Tamarind fish sauce: typical in the South, served with eel dishes such as fried eel, eel-leaf omelet or crispy gourd fish, crispy dry fish …
Pineapple fish sauce: typical in the Central, usually served in seven-course beef or grilled fish, steamed fish rolls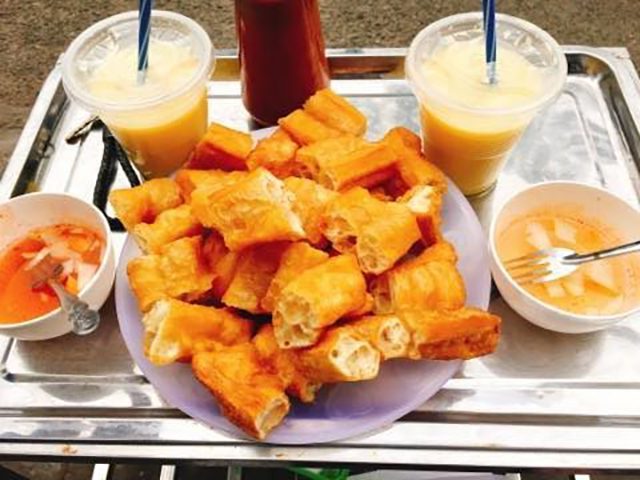 Fish sauce with papaya and vinegar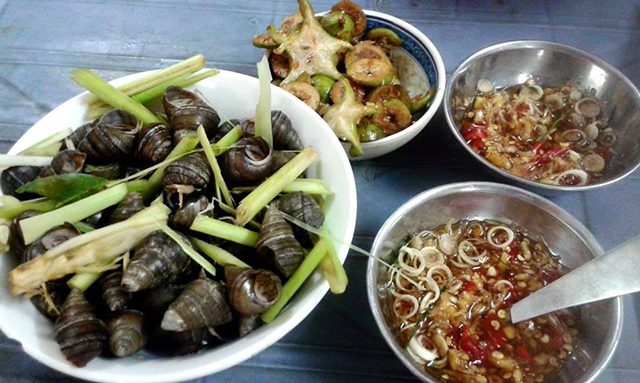 Fish sauce with chili and citronella
Q:Is there any interesting way of eating nuoc cham?
From the North to South, "mắm" (a type of "nước chấm") has special or bizarre ingredients, nowhere in the world but only can be found in Vietnam.
In the North, there are
"Mắm tôm" – made from shrimps or "moi" and salt, through the process of fermentation to create a deep purple color and smell so distinctive that the "mắm tôm" became a common word in everyday life. "Mắm tôm" can be mixed with white wine and lemon juice to reduce the sharp smell and be served with bún đậu, bún riêu, bún thang. In cooked dishes, "mắm tôm" is an indispensable form of preparation for "giả cầy" (pork), "rượu mận (from wine)" dishes.
"Mắm cáy" – made from fiddler, a species of crab living mainly in the northern coastal region. The sauce is half-green and half brown, the taste is much more than "mắm tôm", delicious and very easy addictive. Often served with boiled sweet potato vegetable.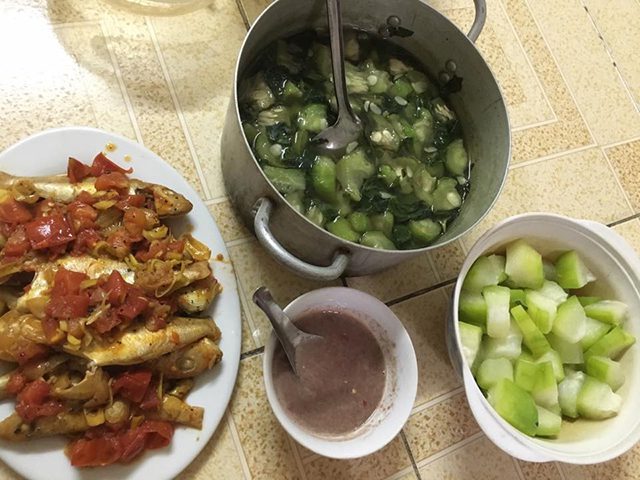 Mắm tôm
In the Central, there are
"Mắm cái/ mắm nêm" – made from fish in the form of Whole fish (anchovy, red fish …) and puree (herring, scad, parrot …). After salting, fermenting, fish is mixed some accessories such as hearing, aroma, sugar … to create a specific flavor.
"Mắm ruốc"– is made from a crawfish – a small shrimp, but of completely different color and taste with mắm tôm. This sauce has a medium taste, light fragrant, not too salty, pink-red color.
"Mắm tôm chua" is made from fresh shrimp, keep whole shape, has sweet and sour taste, slightly spicy flavor of galangal, chili so very pleasant, easier to eat than "mắm tôm". This sauce is well served with boiled meat.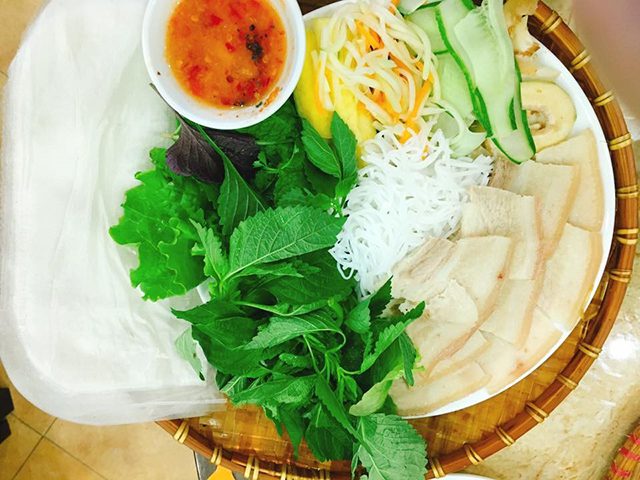 Mắm tôm chua
In the South, there are
"Mắm rươi Tra Vinh" made from "rươi" especially enjoyed by Nguyen dynasties.
"Mắm cá" made from various types of fish: snakehead sauce, with the most famous sauce called Châu Đốc (Tra Vinh province) well served with "bún"
"Mắm thái" made from Snakehead gut, chop and mix with papaya, add sugar and seasoning. There are many ways to enjoy but most delicious is to serve with bun, green vegetables, boiled meat, "bánh tráng"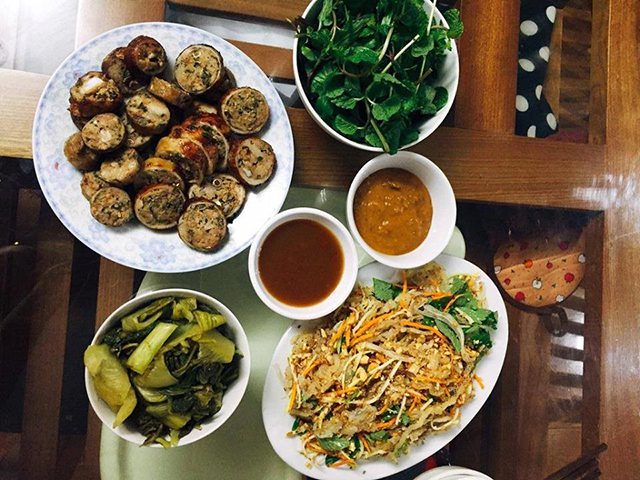 Mắm lạc
Q:A little bit about fish sauce (Nuoc cham)
A:Nuoc cham Ice Block is a unique variant, a combination of dipping sauce and ice cream.
The two types of dishes are seemingly unrelated to each other, but the talented Australian chef mix them creatively to create a delightful dish. For the long time, sauce is always considered to be served with food, now it turns to be an independent dish as a dessert. With ingredient similar to an ordinary Vietnamese bowl of dipping sauce, however the mixture of sauce is poured into ice block moulds and put into the freeze. The "nuoc cham" now is in the shape of an ice cream, bringing extraordinary experience. The dish has become top 5 Most Popular "MasterChef Australia" Season 8 Recipes by contestants.
B&Company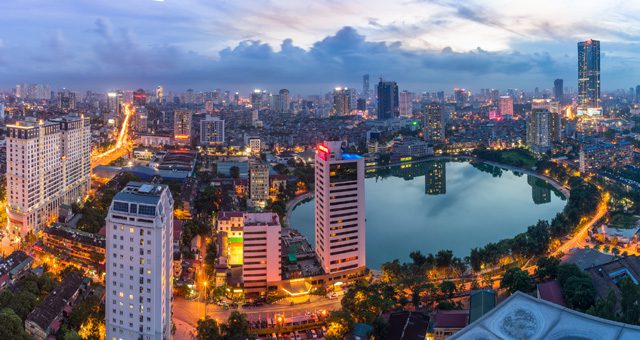 A market research company specializing in Vietnamese market
We are providing market research, local partner matching and regulatory research services to support enterprises and individuals who want to sell their products or services in Vietnam.
What is market research?
For example, in case you want to sell miso in Vietnam, in order to consider whether to start the business, it is necessary to collect various information: "Does Vietnamese people have habit of eating miso?", "Is Vietnamese miso different from Japanese miso?", "How often does Vietnamese people buy miso? Where to buy? How about the price?", "What kind of procedure is necessary when importing miso (or manufacturing locally) to sell in Vietnam?" In brief, we conduct research in local market (market research) to collect these kind of information. Taking advantage of having wide local and international network, B&Company conducts market research and delivers to customers insights of the market.
What distinguishes our services?
We have more than 9 years of experience in Vietnamese market, accomplishing more than 100 projects in various industries. We are providing market research, consulting and business support services. We could offer continuous support from feasibility study to enterprise establishment. Especially, we have extensive experience in market research both B2B and B2C, and able to propose optimal research design according to budget and research purposes.We conduct effective market research at reasonable price by utilizing our own online survey system.
WEBSITE / Facebook / twitter (Posted by B&Company Representative)
Contact: (mail) info@b-company.jp or (Tel) 03-5829-4006
Reference
https://tranbathoaimdphd.wordpress.com/2016/10/26/can-phan-biet-nuoc-mam-voi-nuoc-cham/
http://gocnhosantruong.com/doi-song-xa-hoi/gia-chanh/1394-d-c-dao-nu-c-ch-m-vi-t-nam
http://www.nuocmamviet.com/tan-man/276-huong-vi-nuoc-mam-ba-mien-phan-iii.html
http://www.foods4betterhealth.com/5-most-popular-masterchef-australia-season-8-recipes-29679