This is an article written about fermented food in Vietnam.
This time we report about Vietnamese Nare-zushi "Nem chua".
It is Ms.Ann who taught us. Ms.Ann is a local staff member of "B & Company", a market research company specializing in the Vietnamese market.
Q:What kind of fermented food is "Nem chua"?
A: "Nem chua" (Northern dialect) or "nem" (Central and Southern dialect) is a Vietnamese fermented pork dish that uses pork, yeast of leaves and roasted rice powder for ripening, so has featured sour taste.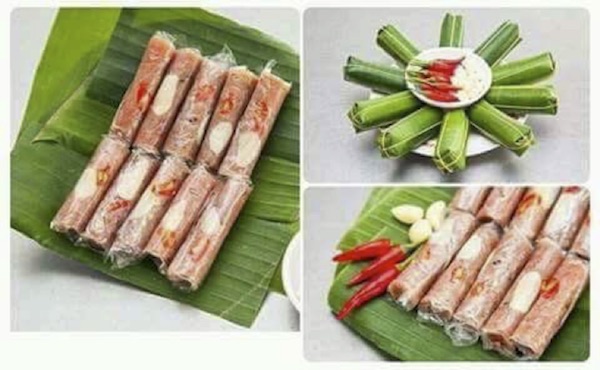 Way to make "Nem chua" is considered relatively simple, and fast, only taking a few days. Ingredients include pork, pig skin, roasted rice powder (made of rice, roasted yellow beans and finely grinded), garlic, chillie, other seasoning (such as sugar, salt, pepper, fish sauce. Firstly, shave pig skin cleanly, wash and put into pot for boiling. To remove the skin's stink, after skin is boiled, pour into a little whiskey then quickly discharge under hot water. When skin become drained, slide into 2-3 cm yarn. The next step is with pork. Mince and mix with spices such as roasted rice powder, salt, pepper, sugar, garlic … and skin yarn. Then roll the mixture in a thin layer of leaf (maybe leaves of guava, fig, Ming Aralia, Tiger's Claw) and add a thick layer of banana leaves outside. Let it ferment from 3-5 days in a cool place, then it becomes edible.
Nem chua possesses the local character of each region of Vietnam, thus, versions of Nem chua can be distinguished by their names, which is usually named after the area it originated from, such as: nem chua of Vinh Yen, Uc Le (Ha Dong), Van village (Ha Noi), Quang Yen (Quang Ninh), Thanh Hoa city, Dong Ba (Hue), Ninh Hoa (Khanh Hoa), Thu Duc (Ho Chi Minh City), Lai Vung (Dong Thap), etc…
Q:Please tell me how to eat 'Nem chua'.
When it comes to selection, 3 factors need taking into consideration.
1.Color
The first factor is color. Being peeled out, the color of "nem chua" must be naturally red, if the color is too light it may be left too long, but if darker, it can be concluded that "nem chua" had been mixed with artificial food colors, and if too dark, "nem chua" had been made with overamount of roasted rice powder but little meat.
2.Texture
Second is texture. When looking around the rolls, there must be no track of mold, when slightly clenching, the "nem chua" must have a firmness, when biting, it must be tough. The yarn of "nem chua" must be not too crystal, if too crystal, it may have used detergent. In short, the good quality "nem chua" is the one slightly opaque, moderate in texture, crunchy and soft.
3.Expiry Date
Last but not least is expiry date. There are two different dates, one is for when the "nem chua" is ready to be used, the other is the expiration. Normally the qualified "nem chua" can be eaten after 2-3 days of fermentation, depending on weather, in hot days, it will be shorter than cold days.
Therefore, the buyer should pay attention to the time they intend to use "nem chua" to buy the appropriate one. However, in case of buying newly-made "nem chua", if 4-5 days later it remains uneatable, be careful in eating. Maybe that "nem chua" had been added preservatives, which are harmful to our health. "Nem chua" can be edibe within 7-10 days after fermentation finishs if it is preserved in the right way. It's advisable to be kept in the cool in the refrigerator.
Q:Where is the delicious area of 'Nem chua'?
Below are some of the most well-known "nem chua" throughout Vietnam
1. "Nem chua" Thanh Hoa
"Nem chua" Thanh Hoa has long been famous in all regions of Vietnam from the North to the South. The special point to distinguish "nem chua" Thanh Hoa with "nem chua" of other areas is the Ming Aralia leaf, which is used for wrapping. Ming Aralia, a kind of ornamental plant, can helps "nem chua" not only look beautiful but also taste more attractive. The green leafy, fastened to the pinky "nem chua", brings a striking contrast but harmonious between "nem chua" and leaf.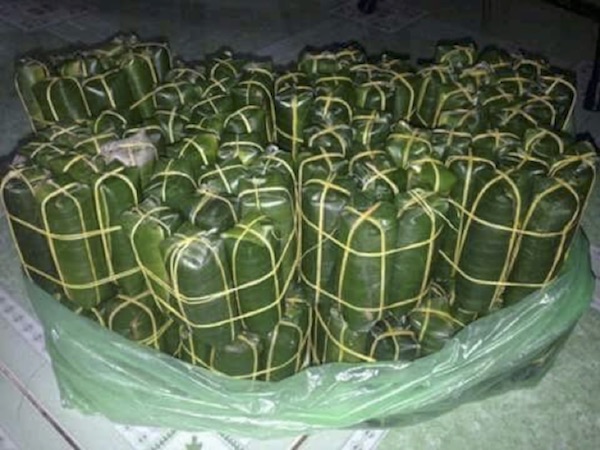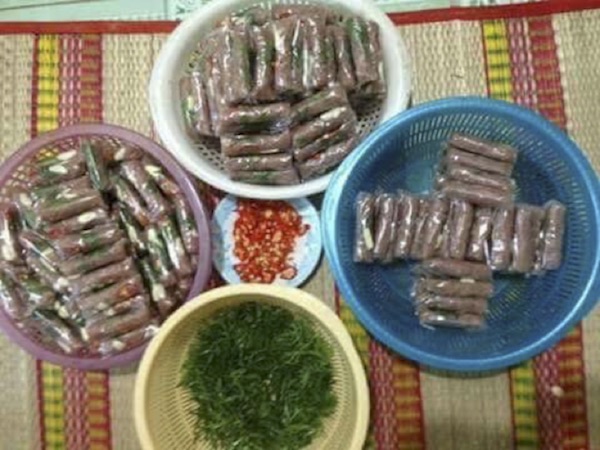 Gourmets often put it near their nose to smell before eating. Delicious "nem chua" will have a sour aroma, with spicy of pepper and acrid of Ming Aralia leaves. This special smell of the leaves not only helps to reduce the fat of meat but make you feel better as well.
Along National Highway 1A, the gateway to Thanh Hoa province have hundreds of shops selling. To buy a delicious "nem chua", buyers are recommended to go into the city, reach reputable units. The price ranges from 30,000 – 50,000 VND /10 pcs
Some famous units in Thanh Hoa Province:
Nem chua Thang Tuyen
Address : 409 Le Hoan Str, Ba Dinh Ward, Thanh Hoa City
URL: http://nemchuathangtuyen.com/
Nem chua Cay Da
Address : 326 Truong Thi Str, Dien Bien Ward, Thanh Hoa City
Nem chua Cuong Dung
Address: 15 Tan An, Ngoc Trao Ward, Thanh Hoa City
2. "Nem chua" Dong Thap – Nem Lai Vung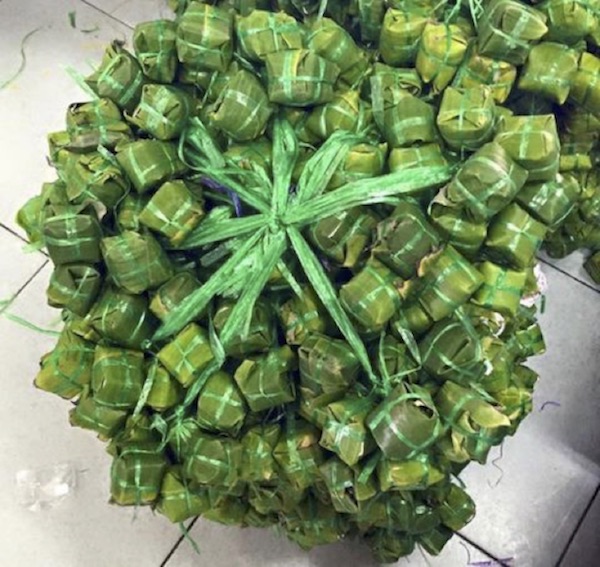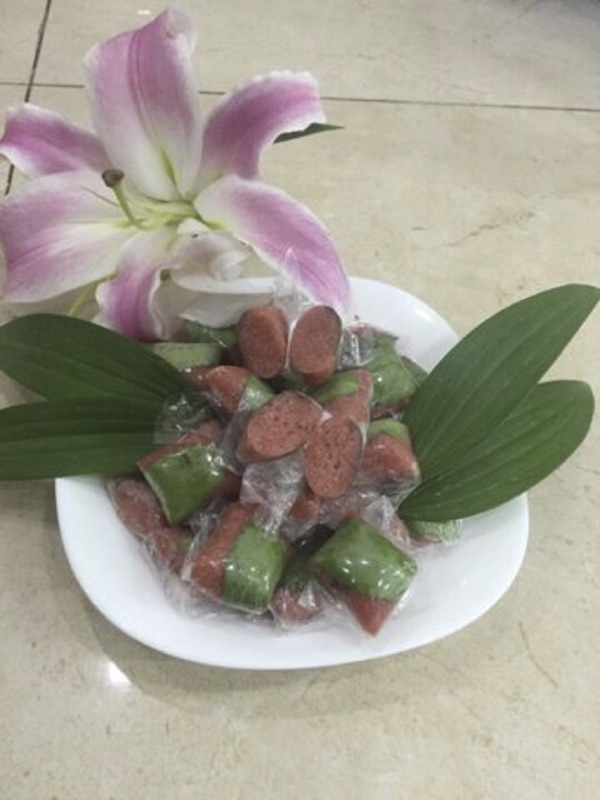 Nem Lai Vung is made in Lai Vung district of the Mekong Delta province Dong Thap. The locals take pride in their "nem chua" recipe, which has been passed down through many generations. This kind of "nem chua" have bright featured red-pink color, attractive flavor, which include all sour, spicy, salty, sweet; and well-served as dishes for parties or plain family meals. In addition, this dish is also suitable to eat as snack, because of the tasty spice and sweet.
Different from common "nem chua", Lai Vung nem process is quite complicating, requiring a lot of effort, meanwhile each family has their own secret formula. Lean meat is filtered out veins, fat, sliced thinly, adding sugar, salt and puree. Finally mix with pig skin (scrotum), roasted rice powder, pepper and thin slices of garlic; then wrap with in Phyllanthus or Tiger's Claw leaves, outside is covered with a layer of banana leaves.
The price ranges from 25,000 – 35,000 VND /10 pcs
Some famous units to buy:
Nem chua Ut Thang
Address : Highway 80, Long Hau commune, Lai Vung District
URL : https://nemlaivungutthang.com
Nem chua Giao Tho
Address : 121 Tan Khanh, Tan Thanh commune, Lai Vung District
URL : https://www.facebook.com/pages/Nem-Giao-Tho-Dac-San-Lai-Vung/163947110301602?ref=hl
Nem chua Co Hiep
Address : Highway 80, Long Hau commune, Lai Vung District
URL : https://www.facebook.com/pages/Nem-Lai-Vung-C%C3%94-HI%E1%BB%86P/583683361689710
3. "Nem chua" Yen Mac – Ninh Binh Province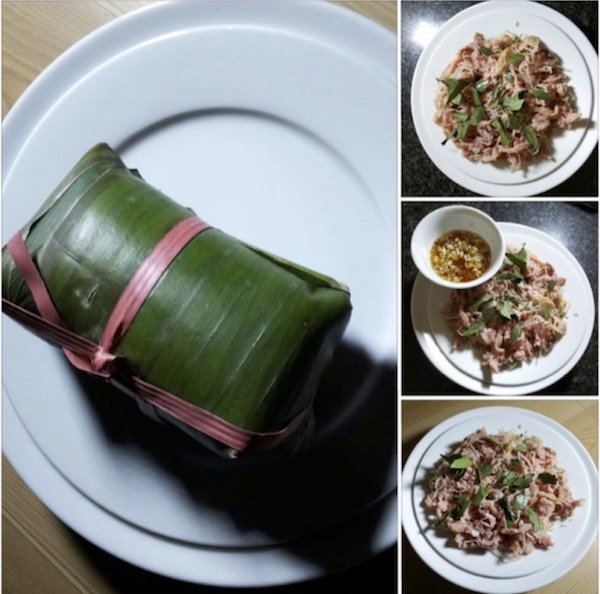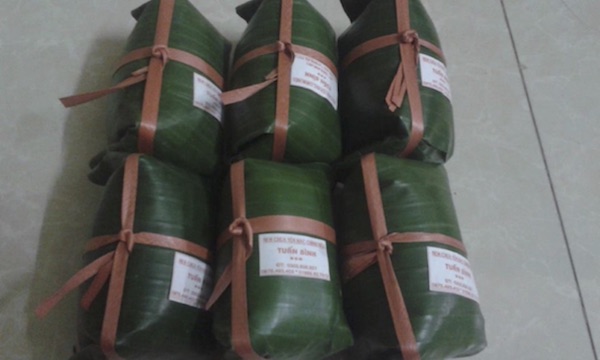 This dish appeared long long ago in Yen Mac commune, and developed as a trade village with various household producing and selling. The processing technique is also considered elaborate at choosing ingredients. Makers often choose meat right after the pigs are slaughtered because that will make "nem chua" more fresh and flavor. If using griskin or meat at shoulder, "nem chua" may become dull, not delicious. Unlike "nem chua" of other provinces, which is made of ground pork, "nem chua" Yen Mac is made of sliced pork. Moreover, when eating, after removing layers of leaf, the "nem chua" will turn in shape of yarn, piece rather than firm block as other types of "nem chua".
"Nem chua Yen Mac" has pleasing aroma, pinkish color of pork with some shredded white skin, slightly sour taste of fermented pork, and often served with dipping shrimp/ fish sauce, spiced with garlic and chili.
The price ranges from 30,000 – 50,000 VND /1 pc
Some famous units to buy:
Nem chua Trung Kien
Address : No.70, street 11, Van Giang ward, Ninh Binh City
Nem chua Tuan Binh
Address : Neighbor 4, Dong Son, Yen Mac commune, Yen Mo District
URL: https://www.facebook.com/Nem-Tu%E1%BA%A5n-B%C3%ACnh-414426865356731/
Q:Is there any interesting way of eating "Nem chua"?
Grilled "nem chua" is one of the most favorite food to Hanoi people.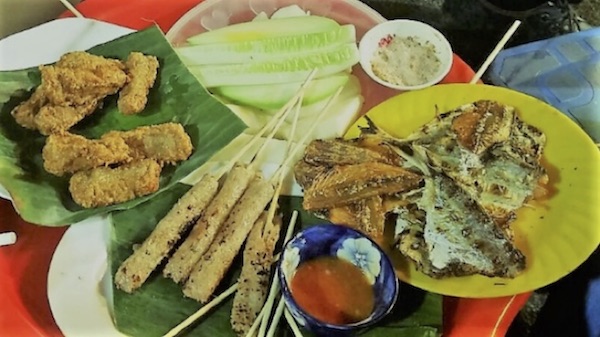 Grilled "nem chua" is one of the most favorite food to Hanoi people, especially in cold days of winter. Although the name includes "nem chua", this kind of dish is totally different with the above "nem chua" in terms of processing, and people won't use "nem chua" to make this dish. Minced pork mixed with seasoning such as fish sauce, sugar, garlic… are kept in fridge in around 1 day instead of 3-5 days as the normal "nem chua". Although being grilled, the "nem chua" remain keeps the fresh pink color of pork. The rolls are placed on a charcoal blusher, guava leaves are slightly burnt, distracting light aroma. Served with grilled "nem chua" are chilli sauce and sour refreshment such as mango, cucumber or papaya… It would be very interesting to enjoy the hot grilled "nem chua" while gathering around the tables and chatting with friends, or family.
Please tell me the episode of the seasoning "Nem Chua" in Vietnam.
The legend of "nem chua" Yen Mac
In ancient feudal times, "nem chua" was a dish that belonged to the delicacy, only used for the imperial king and the nobility class. At Nguyen Dynasty (in 19th century), within the village of Thuong Yen Mo (Yen Mac), there was a mister named Pham Than Duat, positioned prime minister. His daughter named Pham Thi Thu, adopted his father into town of Hue. Seeing her father loves to drink wine with "nem chua" Hue, she came to learn from the famous chef of the court to make this dish for her father.
The guests to Mister Pham's house were treated "nem chua", which was made by no one else but his daughter. Everyone said that it was even better than "nem chua" in palace's party. Guests when leaving often bought and are given "nem chua" as gifts.
Later, Ms. Thu returned home village, and taught technique of making "nem chua" to Mister Duat's great grandchildren. That man opened a store to sell "nem chua" in "Cau But" street (Yen Mac commune), compliment of this delicious "nem chua" spread throughout nearby provinces as Thanh Hoa, Nam Dinh. Up to now, "nem chua" Yen Mac is still famous in the area, becoming a local specialty.
A new look of "nem chua"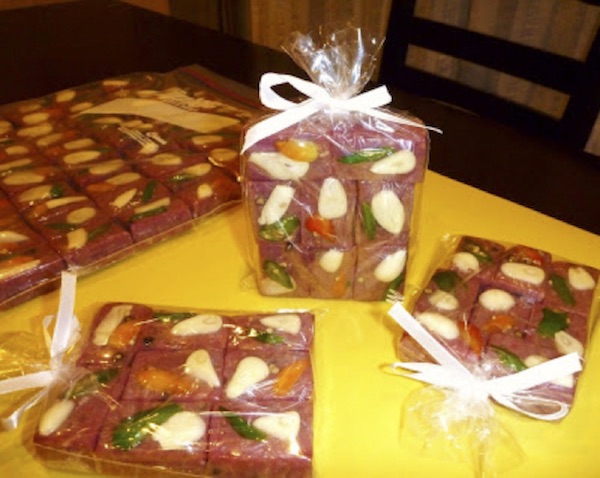 An American blogger, founder of "The Spices of Life", innovates a new way to wrap "nem chua". Instead of using banana leaves, she switchs to plastice wrap for the sake of time and convenience. This, by chance, brings a new look to "nem chua", lively and modern but also so lovely.
B&Company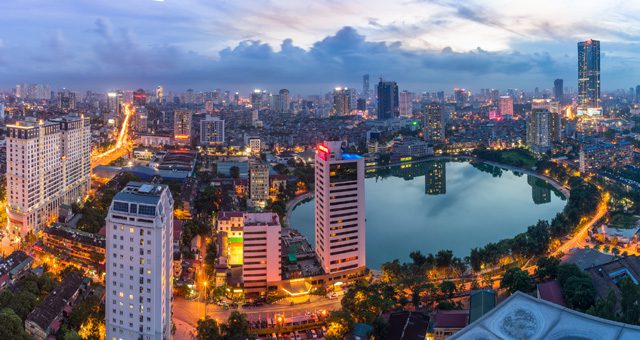 A market research company specializing in Vietnamese market
We are providing market research, local partner matching and regulatory research services to support enterprises and individuals who want to sell their products or services in Vietnam.
What is market research?
For example, in case you want to sell miso in Vietnam, in order to consider whether to start the business, it is necessary to collect various information: "Does Vietnamese people have habit of eating miso?", "Is Vietnamese miso different from Japanese miso?", "How often does Vietnamese people buy miso? Where to buy? How about the price?", "What kind of procedure is necessary when importing miso (or manufacturing locally) to sell in Vietnam?" In brief, we conduct research in local market (market research) to collect these kind of information. Taking advantage of having wide local and international network, B&Company conducts market research and delivers to customers insights of the market.
What distinguishes our services?
We have more than 9 years of experience in Vietnamese market, accomplishing more than 100 projects in various industries. We are providing market research, consulting and business support services. We could offer continuous support from feasibility study to enterprise establishment. Especially, we have extensive experience in market research both B2B and B2C, and able to propose optimal research design according to budget and research purposes.We conduct effective market research at reasonable price by utilizing our own online survey system.
WEBSITE / Facebook / twitter (Posted by B&Company Representative)
Contact: (mail) info@b-company.jp or (Tel) 03-5829-4006
Reference
https://vi.wikipedia.org/wiki/Nem_chua
https://nemongtrehacthanh.wordpress.com/2015/10/15/bi-quyet-chon-nem-chua-ngon-dam-bao-chat-luong/
http://vietnamnet.vn/vn/doi-song/6-mon-nem-ngon-nuc-tieng-3-mien-viet-nam-272526.html
http://nemchuaotdo.com/cac-mon-nem-chua-ngon-ba-mien-phai-thu/
http://vietspices.blogspot.com/2011/01/nem-chua-curedfermented-beef.html
https://originvietnam.com/destination/vietnam/ninh-binh/nem-chua-yen-mac.html
https://www.facebook.com/Nem-Tu%E1%BA%A5n-B%C3%ACnh-414426865356731/