There's something about All-You-Can-Eat diners that sometimes bring out the kid in people. It just feels too difficult to stay completely calm when there is an endless feast rolled out in front of you, isn't it? I don't usually go on gluttonous rampages at buffets (or Viking restaurants as they're known in Japan…can you think why?), but every once in while I enjoy the decadence of being given free reign over how much I get to stuff my tardy face with. Even better when I have accomplices to share the guilty pleasure with!
But compared to the feeling you may get after taking advantage of one too many All-You-Can-Drink deals (which are very common in Japan) or a girls' day out at the cake buffet, if the subject of your wanton consumption is natto, then the guilt and regret your body and soul goes through should be barely little. One can still walk away feeling satisfied and feeling they got their money's worth without forcing it.
Never Underestimate the Allure of Natto
Sendai-ya is a natto manufacturer that has a very succinct slogan as well as several restaurants in Tokyo. One of them is located close to my neighbourhood. The street corner eatery is easily noticeable for the huge vending machine that sits outside which sells…you guessed it, natto.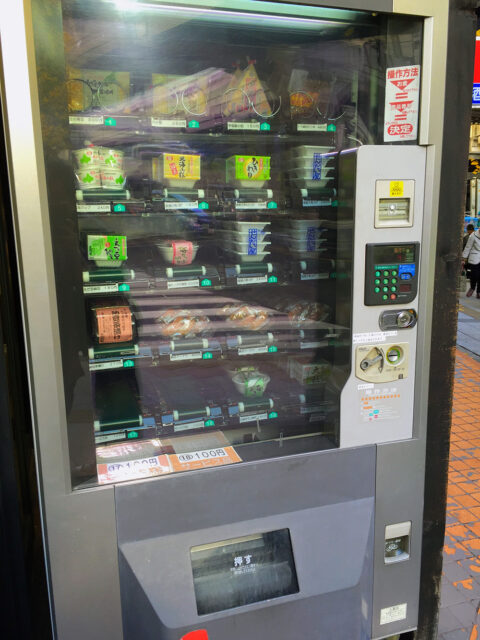 What? This is Japan. You know there are weirder things allegedly sold in vending machines here. A machine dispensing fermented soy beans is nothing to raise an eyebrow about.
I had always been curious to try this place out, and when the opportunity arrived, I was fortunate to find, not one, but two fellow natto aficionados – Satoko and Norman – to tag along for the experience.
We arrived around 12:30 on a Sunday afternoon to find the small restaurant almost at full capacity. As we patiently waited to be called to a table, I scanned the display shelves lining the walls. The stores sell a variety of original natto products as well as processed natto snacks.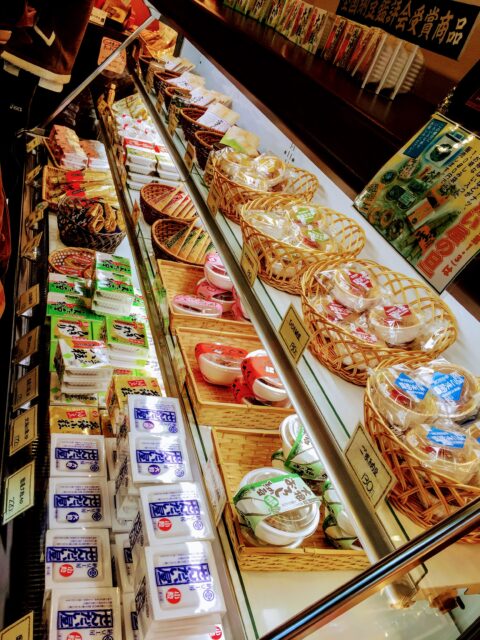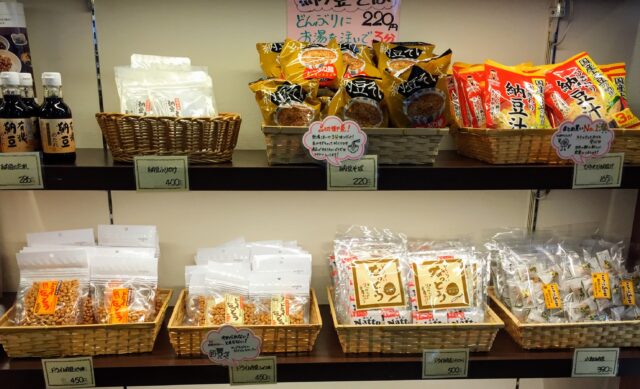 Natto ramen, natto soup, natto crackers…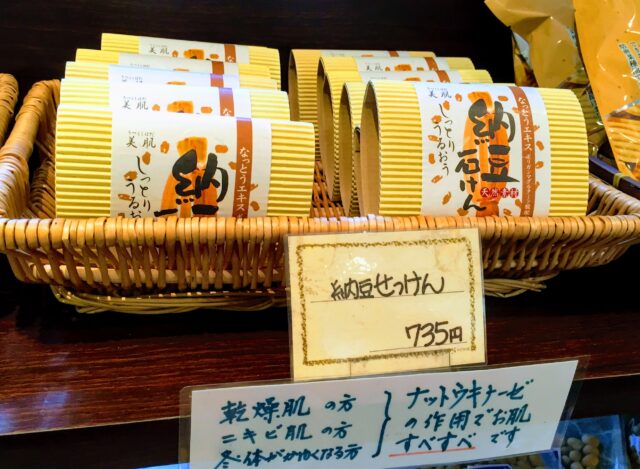 …and oh look, natto soap! Containing the moisturizing nattokinase, allegedly good for dry or spotty skin.
When the time came to order, all three of us went straight for the obvious choice; the Natto Tabehoudai Teishoku (All-You-Can-Eat Set).
For 790 yen per head, we were served a bowl of rice (with an optional extra serving for free), miso soup, a side dish (today it was a hearty serving of cooked hijiki seaweed), a small portion of pickles, and of course, all the packets of natto we could happily stuff into ourselves.
When ordering, customers can choose their first two packets out of the 8 types of natto – "small" or "large" sized soybeans, finely chopped ("hikiwari"), natto made from "edamame", or fermented with "wakame", "hijiki", "sesame seeds" or "millet".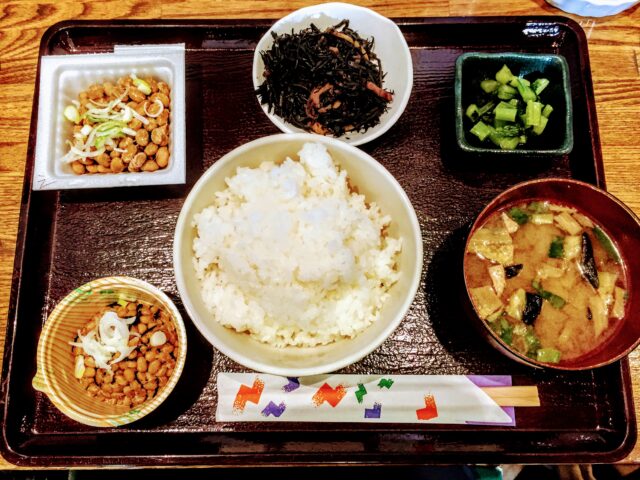 Finally, the moment we'd been waiting for…
Norman and I both asked for extra rice to begin with. After all, we were here to eat a ton of natto, and natto without enough rice is like Vegemite without enough butter…
…or so I had thought, until petite Satoko announced that she would only order a smaller serving of rice.
"Are you sure that's going to be enough?", I asked her, concerned about how she was going to get to enjoy the natto smorgasbord with such a modest serving of rice.
"Don't worry!", she beamed. "I like eating natto on its own, so I'm saving stomach space!"
Now that's some hardcore natto lovin' right there. I should have know that the girl who hails from Ibaraki, one of Japan's most famous areas for natto production, wouldn't slack off when it came to a natto buffet.
I had ordered hijiki and sesame natto for my first go. In my giddy excitement and inability to choose which packet to try first, I decided to dump both hijiki and sesame on the rice at the same time.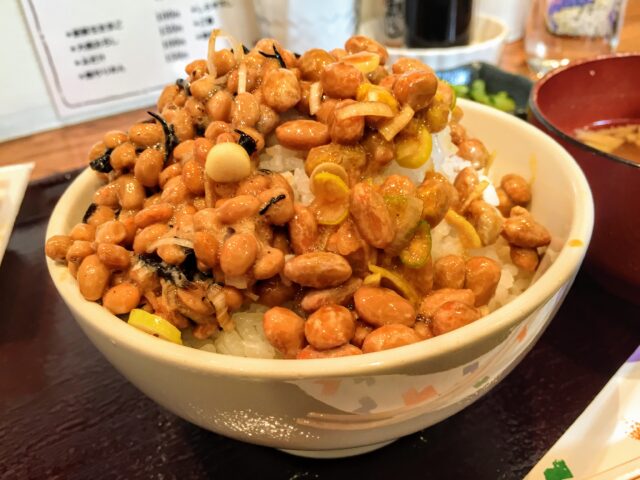 The lady sitting next to us looked at what I was doing and started laughing.
Meanwhile, Satoko continued to chow down her beans straight from the packet. By the time she completed eating all 8 types of natto, there was still about a fifth of her rice still left in her bowl.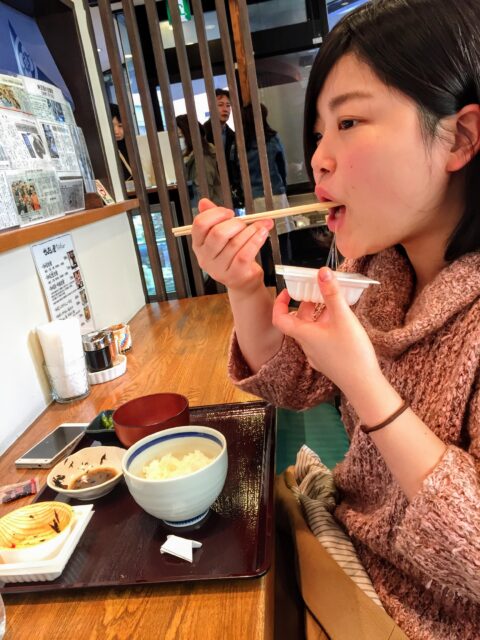 "This is how we separate the natto amateurs from the rest", is what she didn't say. (But she could have been thinking it)
I told Norman that I recently found out in my long hours of natto research that the trick to enjoying the most from your natto lies in mixing it and mixing it and mixing it well. Basically, the stickier and stringier you can make it the better it tastes. (There'll be an article about that one of these, so stay put, kids!)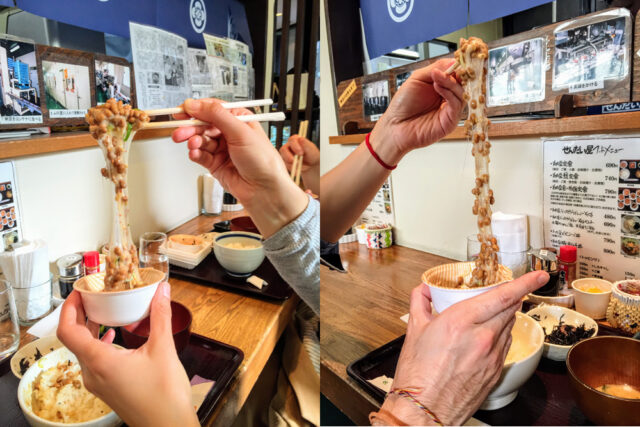 Remember what I said earlier about how All-You-Can-Eat places bring out the kid in you?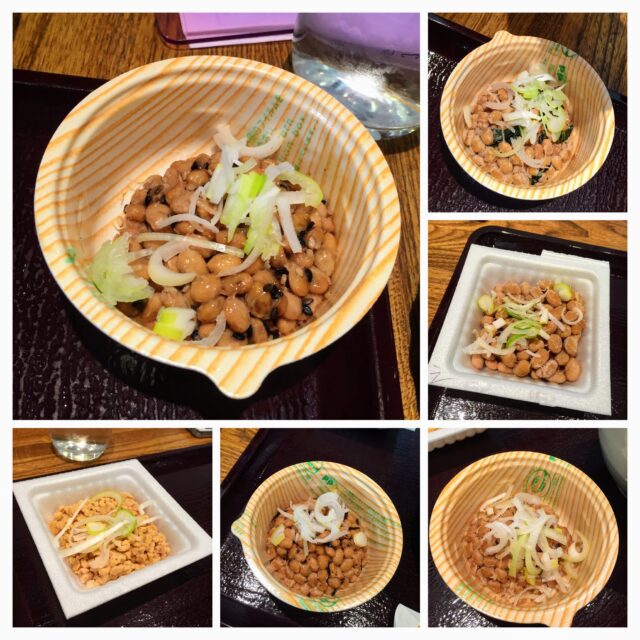 Just because Sendai-ya is a natto eatery, it doesn't mean that the rest of the menu is subpar. The miso soup was rich in flavour and the hijiki mix was seasoned just right. Overall, it was a very harmonious lunch set – there wasn't particularly a real main dish, but I still felt comfortably satisfied.
My personal favourite was the edamame natto and its distinct, delicate palate – just like that of an edamame.
According to internet sources, the highest record stands at 37 packets, devoured by a single man. (The women's record sits at 20)
For customers who don't want to go for the full smorgasbord, there's the basic Natto Set with a choice of 2 types of natto for 690 yen.Other menus include natto udon/soba set (640 yen), natto pork and kimchi on rice (890 yen), and Korean influenced natto bibimbap on rice (780 yen).
…but the best was yet to come…
Although we were positively stuffed with beans and rice, we simply were not going to leave the establishment without purchasing at least one of their famous baked natto donuts…
Here we had 11 flavours to choose from – plain, chocolate glazed, banana, kinako (soybean powder), Darjeeling tea, walnut, matcha azuki, cinnamon apple, cocoa, sesame and sweet potato.
I chose the matcha donut with azuki beans. At first bite, it tasted like any ordinary soft baked donut…until slowly inhaling through my nose as I chewed began to unveil the subtle beany flavour. And it was delicious! I need to go back and get myself a box of these, seriously.
Sendai-Ya せんだい屋 has three branches in Tokyo; Shimokitazawa, Ikejiri-Ohashi and Koenji.
They do not have any English menus, which is even more reason to simply order; "Tabehoudai", and enjoy!